Our Story
"Smiley Children Society" a NGO spreads happiness among the hopeless & poorer families with Education, Food, Clothing, Medical & Orphan help.
The Founder Mr. Prudhvi Moses started his first donation of Note books from his own pocket money ₹36 INR ( 50 CENTS) to a poor boy in his locality at the age of 12 (in the year 2007 ), when he was in his 7th grade, from that day charity has started. Later with the help of his school friends he collected money and purchased full kit (books, pencils, sharpner, eraser, ruler, crayons) which costed around ₹375INR (5USD) slowly these charity activities begun to take its wings in different forms.
Helping the poor and sharing whatever he had, made him feel happy and now, In year 2008, Mr. Prudhvi Moses and his classmates (seven members) have decided to donate exam kits to few poor kids who were not even able to afford the basic essentials. From the year 2009, Mr. Prudhvi Moses and 8 of his friends started taking care of 4 children completely till the kids have reached their 10th grade.
Taking this forward to the Municipal Commissioner and with his help Mr. Prudhvi Moses and his team started to trace out un-educated children in the slum area and has given the data to the Municipal Commissioner. Using this date the Commissioner & his team from the Government have counselled the uneducated children's parents & 80% children have joined Government schools for education. Today each of that child has bloomed into engineers, doctors, nurses, teachers and various other professions.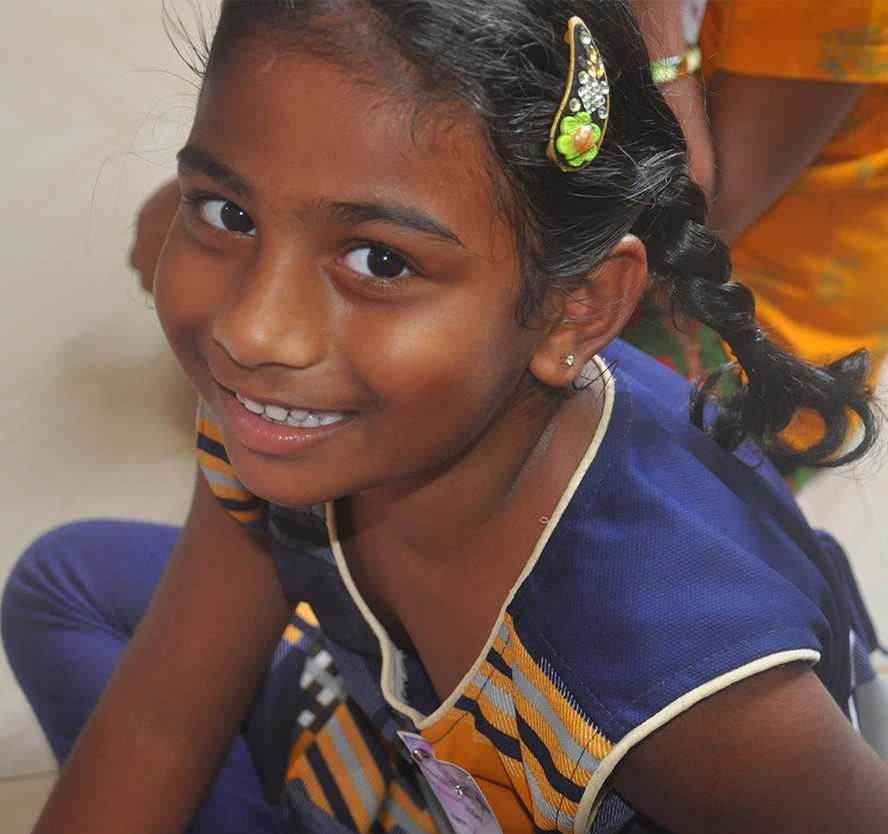 ACCOMPLISHMENTS
2010
On the occasion of Republic Day, Mr. Prudhvi Moses has been awarded with the Certificate of Appreciation from Mandapeta Municipal Commissioner, for his tremendous efforts in identifying the uneducated children.
2011
Started collecting used text books of (1-10th class) & has setup a mini library at his house (balcony) and Mr. Prudhvi expected that children would use this facility, but inturn these books were used by the trainee teachers & also by the people who were preparing for competitive exams. Inspired by the sacrifices of Mr. Prudhvi Moses, they have returned the books along with a compass box / new note books / new pens .Which helped Prudhvi to donate them as stationary.
2012
Mr. Prudhvi Moses, dedicatedly started free evening tuitions for two hours (6pm-8pm) for children below 8th class in slum area under open air & used to give a chocolate while they were leaving, initially it was started with 7 kids and it went to 14 kids and then 25 kids in a month. Local persons used to give electricity for a light for free., but in rainy season.
It went on toss and free evening tuitions stopped for two days, then one of our team member Ms. Harika, who was a tutor in medical college, has provided a basement area with electricity where 50 children can easily accommodate.
Later, Mr. Prudhvi Moses, has shifted to Chennai, Tamilnadu for pursuing his higher education (Aeronautical Engg) and Ms. Harika used to take the evening tuitions.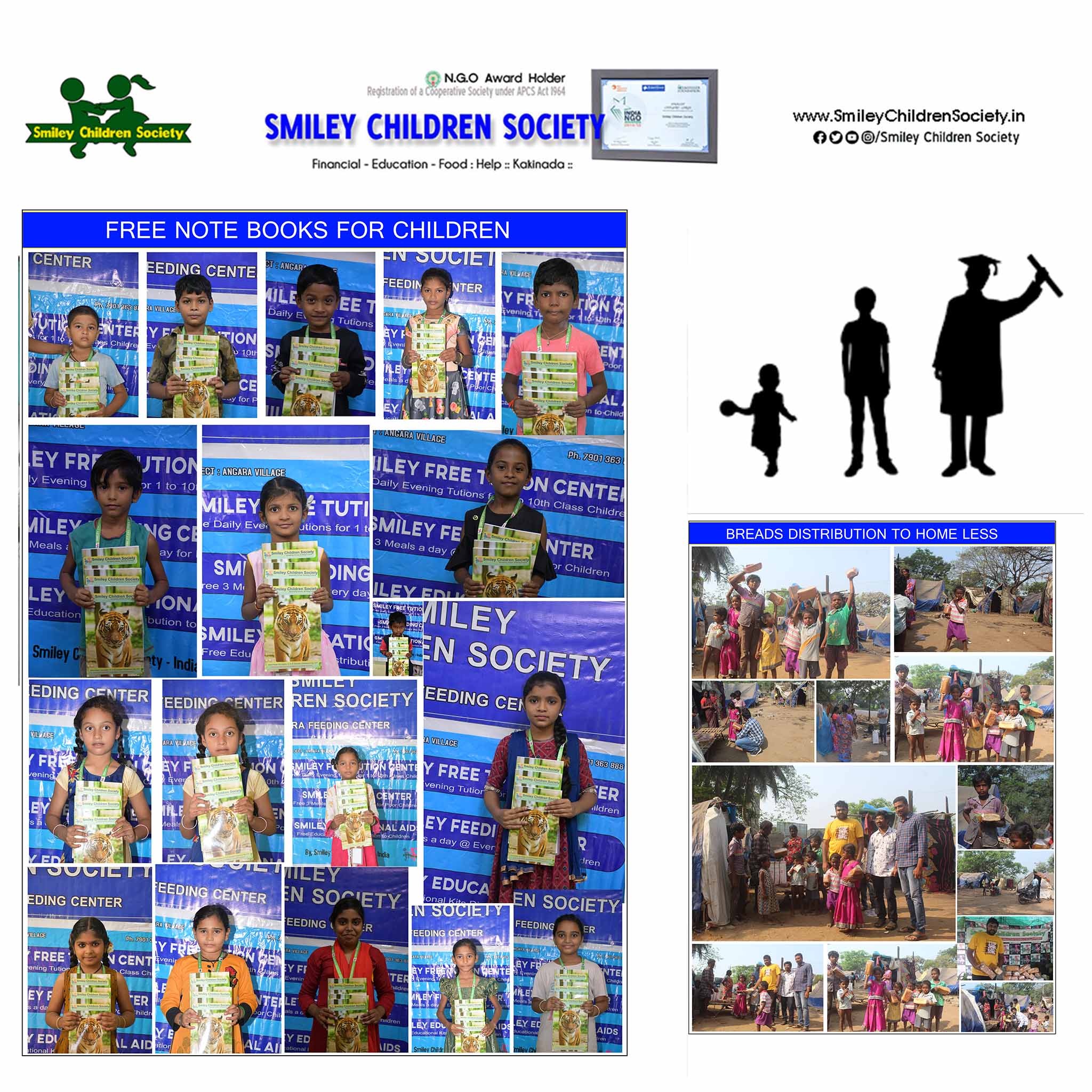 With the help of volunteers slum child were joining in schools and the she upgraded the chocolate that was given after tuition slowly to evening snacks (cupcake/biscuits/namkeen), and Mr. Prudhvi used to sponsor children school uniforms and books from chennai via postal & courier and he also encouraged few poor children and extended his charity works were also continued in Chennai, which makes us understand the Smiley Children Society has never stopped in doing its works.
And let us not forget that it is not just fees that one needs funds for. The school uniform, books, stationary, all are expenses too. This part of the expense is mainly passed along to the parents as they too should take some responsibility. However, for those parents who genuinely cannot spare money for these items, Smiley Children Society takes the responsibility.
2017
Smiley Children Society had a total of 100 kids enrolled in Mandapeta region school. and Ms. Harika Negotiating fees with schools and bringing them to the agreement to accept students from the lower start of society became a priority.
2020
Local Minister vists our smiley center and has taken part in distrubuting blankets to all the children families (approx. 250+) blankets given, harika colleagues and prudhvi moses friends has collected amount from their circle for this mega event, which rescused many poor families/old people from extreme cold weather in potavaram , west godavari.
we recived NGO recognition from govt. of Andhra Pradesh based on last three years performance in eradicating poverty & educating slum children. people used to celebrate birthday/marriage day or any special occaision at smiley children feeding center. at the time of corona where all the schools & business are shut, we faced many bad days where one of the parents of children are died, and we have orphans are at our center, some days we have no rice to cook , after this up and down curve we right now have 60 childern at pothavaram feeding center and in which 18 are orphans . currently we are providing education (from school) , food and clothes .
"I want to enroll 1 million children into school in the next 5 years. Our commitment to transparency and our Happiness Subscription program will help us realize our dream," asserts Prudhvi Moses.